LeBron James won't intervene in Cleveland Cavaliers' decision on Kyrie Irving
---
LeBron James intends to let the Cleveland Cavaliers front office and owner Dan Gilbert take the lead in dealing with Kyrie Irving's trade demands, sources told ESPN.
Both the franchise and James were rocked when Irving asked the team to trade him last week. James was informed after Irving told the Cavaliers and was unaware of the guard's feelings, sources said.
Kyrie Irving — one part of Cleveland's Big Three that has reached three straight NBA Finals — has asked the Cavaliers to trade him so he no longer has to play alongside LeBron James, sources told ESPN.

A formal announcement to announce the promotion of Koby Altman from assistant general manager to GM is expected from the Cavaliers soon, sources told ESPN's Adrian Wojnarowski.

Kyrie Irving is ready to leave LeBron. Should the Cavs make a move? Kevin Pelton examines possible trade options.
2 Related
Irving did talk about the meeting to several other teammates, a league source told ESPN's Dave McMenamin.
As the Cavs consider their options, sources said James has expressed to the team that he is focused on his offseason workout regimen and is planning to report to training camp with the intention of leading his teammates to a fourth consecutive Finals — no matter who those teammates are.
This follows the pattern James has taken with the Cavaliers in recent years. He is always kept aware of the franchise's moves and sometimes will reach out to potential new players to discuss the team but hasn't wanted to be a leader in those decisions.
The Cavs have three choices: Reject Irving's plea and not trade him as he has two years (plus an option year) left on his contract; find a package of young players and draft picks in exchange for him; or find a deal for veteran players as they deal with the reality that James can be a free agent after the 2017-18 season.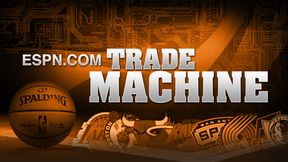 Want to speculate where Kyrie Irving could land? Swing a deal for your favorite franchise. Trade Machine
The timing of Irving's demand is unfavorable to the team in the trade market, as both Jimmy Butler and Paul George, stars the Cavs attempted to acquire, have been dealt in the past month.
Figuring out a strategy with all these scenarios will be challenging for Gilbert and his front office, which is currently led by acting general manager Koby Altman.
Gilbert has met with Altman about the future several times. They have discussed assembling a leadership team with Altman as the permanent general manager, and sources told ESPN's Adrian Wojnarowski that Altman's hiring is imminent.
LeBron James won't intervene in Cleveland Cavaliers' decision on Kyrie Irving