The Spurs head coach is prepared to speak his mind on Donald Trump, and doesnt go in for niceties. The NBA could do with more like him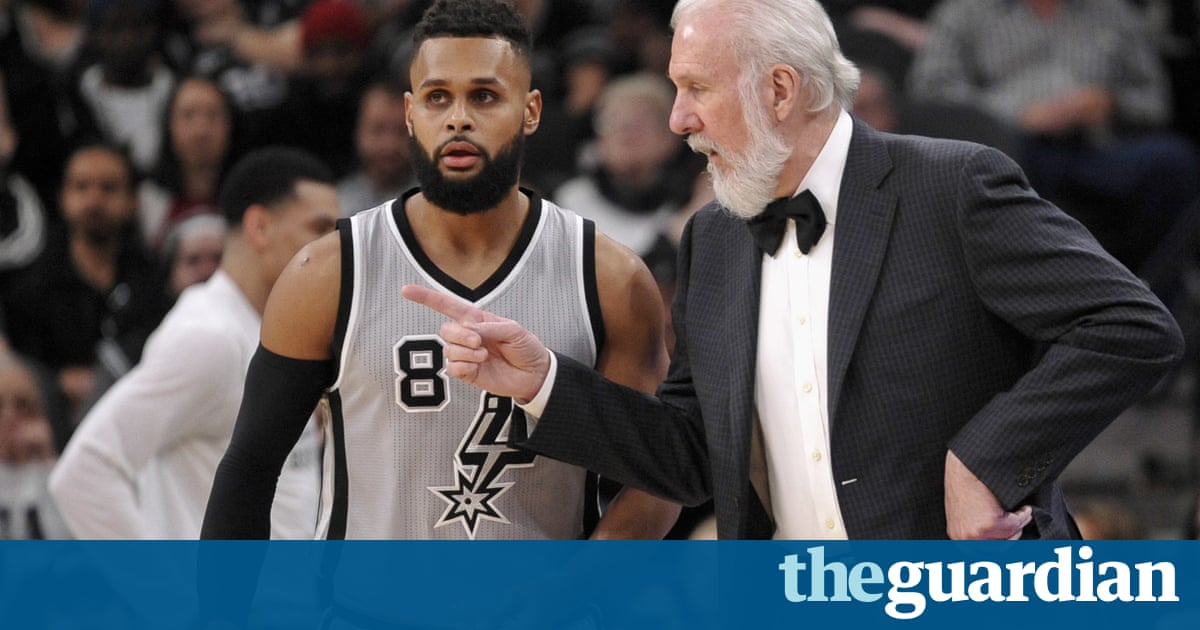 Gregg Popovich didnt like what he saw happening around him and, per usual, wasnt afraid to speak up about it. When asked about Donald Trumps haphazardly implemented travel ban and its chaotic consequences, the San Antonio Spurs head coach blasted the current administration using some of the same terminology he would use to dress down his own team after a particularly embarrassing on-court performance: Well see where this goes. Obviously the rollout today was Keystone Cops-like, by any measure of objectivity. Whether you want to say its good or bad is irrelevant. But it was Keystone Cops, and thats scary.
It was a characteristically blunt and provocative statement from a man who has become as well-known for his dislike of niceties as his unmatched reputation as a coach. Popovich has become notorious for his very public contempt of in-game sideline interviews and for tweaking the league by resting his star players during nationally televised games. At this point, it would have been bigger news if he didnt speak his mind about something he found important, even if that opinion was guaranteed to upset much of his audience (ie devoted sports fans in the reddest parts of Texas).
These days, Popovich can get away with saying very nearly anything without damaging his popularity too much. That wasnt always the case. For a long stretch, Popovich came across as a cantankerous, cardboard cut-out of a coach, obsessed with winning at all costs, and infamous for chewing out media members who had the audacity to ask him questions. It didnt seem like much fun to cover either him or his successful Spurs teams, which tended to compile wins in a workmanlike manner that inspired little love from the outside world.
That seems like a lifetime ago. In recent years, the Spurs have been one of the most consistently competitive and entertaining teams in sports. Popovichs brutal honesty has, oddly enough, made him into something of a likable figure within the NBA world, a refreshing break in a landscape littered with meaningless marketing speak.
Obviously, this change in perception wouldnt have had happened if Popovich hadnt established himself as the best coach in the league. Since 1996, Popovich has won five championships, been an All-Star Game head coach four time and has been named NBA coach of the year three times. Despite the rapidly changing world of pro basketball, his Spurs teams are always in the playoff mix. Playing their first season since franchise icon Tim Duncans retirement, the Spurs are currently 37-11, good for the second best record in the league.
While much of Popovichs success revolves around his considerable knowledge of the game itself, some of it comes from how he deals with the outside noise. While his brusque tone and disinclination to treat subjects with kid gloves may not have earned him many fans among the media at first, it was most likely appreciated within the confines of the locker room. Its no coincidence that his teams have mostly avoided the tabloid-esque drama that constantly boils over in most of the other major NBA franchises.
With Popovich set to replace Mike Krzyzewski as head coach of the US mens basketball team next summer Olympics, its likely that his stature in the game will only increase in upcoming years. In contrast, his few peers in the NBA have seen their influence crumble over the past few seasons. Phil Jacksons titanic ego seems to have finally found its iceberg in New York. Pat Rileys Gordon Gekko routine has grown stale in Miami. The leagues reaction to George Karls tell-all memoir suggests hes about to join Larry Brown in NBA purgatory.
So it matters that Popovich is currently as close to unimpeachable as anybody in the league. In sports, sustained success often acts as the major difference between someone who doesnt give in or pulls no punches and who is being a colossal jerk. In other words, its the difference between New England Patriots head coach Bill Belichick and Cleveland Browns head coach Bill Belichick.
Thats not the only thing that happened to our perception of Popovich, however. For one thing, the very nature of the Spurs changed. Although it took those of us in the media a bit too long before we noticed, the development of point guard Tony Parker transformed the Spurs into a much more loose and dynamic unit than the Duncan-focused team that was (unfairly) dismissed as boring.
This happened right around the time that LeBron James formed his first super-team with the Miami Heat. Suddenly, the Spurs were built up as the team that had put together a championship caliber team the right way, through the draft rather than free agency (as if landing Duncan, perhaps the greatest player of his generation, was part of an easily repeatable, long-term plan). For much of the country, they were considered the underdogs in both the 2013 and 2014 finals, despite being, by pretty much any measure, the most successful NBA team of the 21st century.
So, Popovichs rehabilitation from cantankerous coach who was lucky to have Tim Duncan to basketball genius whose teams win the right way was a by-product of a change in media narratives. But thats not to say that Popovich himself didnt change as he grew more accustomed to his expanding importance as a media figure.
In recent years, Popovich has grown more self-aware about the image he was projecting his snarky commentary now includes a whiff of self-deprecation. Plus, its become impossible to view Popovich purely as a monster who has almost made reporters cry after learning about his off-the-air relationship with late Turner Sports reporter Craig Sager. Knowing that Popovich genuinely cared for his most frequent on-air antagonist adds a human element to a figure who once came off as a complete cartoon.
Its a rather small progression, in the grand scheme of things, but remarkable considering that constant time in the media spotlight tends to do the opposite by reducing real people into caricatures. In this, among many other things, Popovich has proven himself to be an exception.
Read more: https://www.theguardian.com/sport/blog/2017/feb/01/gregg-popovich-politics-spurs-nba