Andy Murrays straight-sets win over Viktor Troicki sets him up to face Juan Mnaco in the second round at the Olympics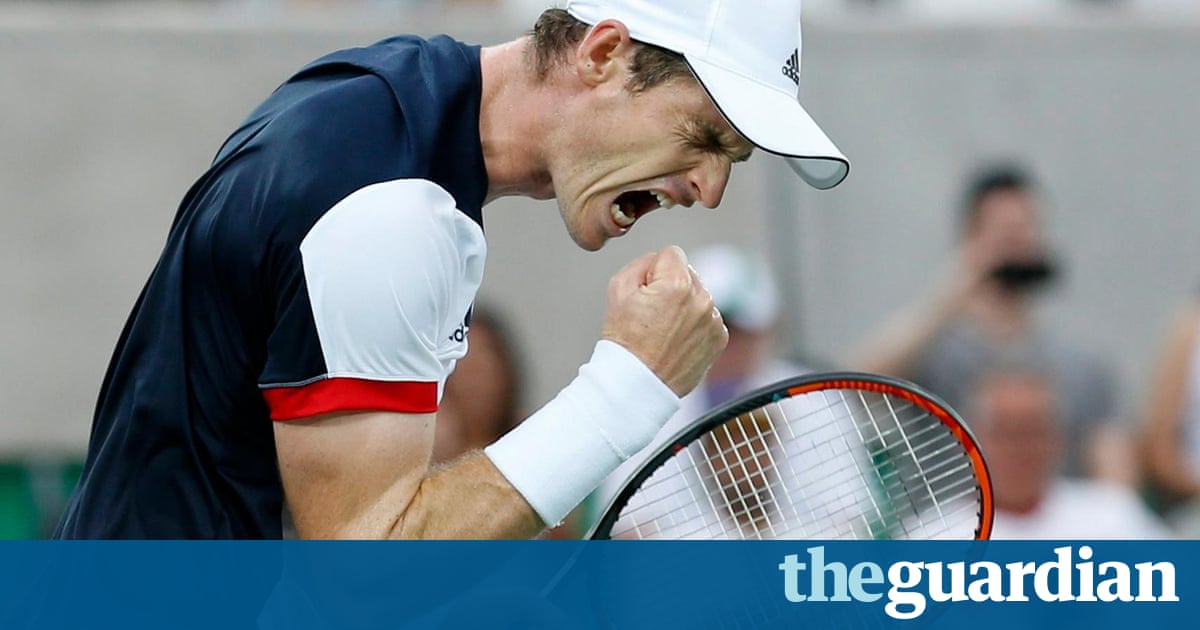 Andy Murray is having the time of his life in Rio, a city that has seemed more like hell than heaven to at least a minority of the thousands of athletes, media representatives and fans who have descended on the 2016 Olympics.
From the moment the Scot led Great Britain on to the vast expanse of the Maracan on Friday night, clutching the flag in his strong left hand as per the instructions of his compatriot and six-times Olympic gold medallist Chris Hoy, until he put the concluding touches to an impressive opening win in straight sets over Viktor Troicki here on Sunday afternoon, Murray has been very much at home.
While aware of the problems many Brazilians are enduring as a patched-up infrastructure creaks and their politicians fix a rictus group grin to disguise the mounting stench of corruption, Murray is getting on with his tennis. He hit fluently and with conviction to overpower the world No35 for the eighth time in eight meetings, 6-3, 6-2 in an hour and 23 minutes.
I was a bit nervous at the start having not played for a few weeks, Murray conceded, and it was my first match on hard courts for a while and in tricky windy conditions. But I did pretty well. It was a good start.
His last match was winning his second Wimbledon title in the London sunshine last month. Since then, he has rested, kept his phenomenal tennis machine ticking over and his focus on an Olympic gold medal to go with the one he won almost to the day four years ago.
It was important to [keep the momentum going] not so much thinking about that as trying to win an Olympic medal. Thats what adds to the pressure a bit.
As for the wider Olympic experience on a rare visit to South America, he said:Ive enjoyed Rio a lot. Being around the Great Britain athletes, being around chatting, supporting Ive enjoyed it. The flag bearing was amazing. Walking out into the stadium was an incredible feeling. I was proud to lead the British team out.
And how did he meet that challenge from Hoy to carry the flag one-handed? It was not that heavy, but it is quite a long lever. When it moves around a little bit you get quite tired quickly.
Murray is no sporting groupie but he does enjoy meeting athletes from other sports and there were plenty of them on hand at the opening ceremony. I sat with Justin Rose on the way back from the opening ceremony. Kevin Durant, too, was great to see, as I am a big basketball fan.
Asked if backing up to hold on to his Olympic laurels added any pressure, he said: Im not defending a gold medal. I will always keep that. Thats always going to be there. You dont have to give it back. Its more trying to win another medal, thats the pressure, wanting to do something here. Thats the pressure Im putting on myself. Im not thinking what happened four years ago.
If he were to win his second Olympic gold medal here, it would give him 18 wins in a row to confirm he is probably in the most consistent form in his career. He has lost just once in his past 24 matches the final at Roland Garros and in the Olympics, he has not lost a singles match since August 2008.
Next up is the Argentinian Juan Mnaco, who beat Mirza Basic 6-2, 6-2 and has taken two matches off Murray in five attempts, his last success arriving six years ago in Valencia.
Stepping on to the bright new Centre Court vacated by Serena Williams after her straightforward 6-4, 6-2 win over the Australian Daria Gavrilova, Murray, who has placed much store in not only retaining his title but upholding the integrity of Olympic tennis, started cautiously in front of a smattering of fans on an overcast and windy afternoon, then methodically ground down his opponent.
Those present in the splendidly appointed showpiece arena maybe 4,000 fans in a stadium purpose built for 10,000 with a view to holding Masters tournaments in the future seemed to favour the Scot, and groaned in disappointment when he failed to cash in on three break points in the second game.
If the contest required more edge than battling for a place in the second round of a competition missing five of the worlds top 10 players (for a
variety of reasons), they had history to deliver on that, too. Murray was critical of the Serb when he was suspended for failing to provide a blood sample at the Monte Carlo Open in 2013, which lent a frisson to his relationship with Troickis compatriot, Novak Djokovic.
Also, it seemed peculiar, indeed, that Troicki did not attend as a spectator in his home town of Belgrade when Great Britain beat Serbia in the quarter-finals of the Davis Cup last month and Murray, who was resting, broke training to sit courtside in support of his team-mates. Djokovic also did not turn up.
Still, here they were in the first round of the Olympics and all that concerned Murray and Troicki was the job at hand. Murray got a second look in the fourth game, but the Serb hung on. Two games later, he finally cracked under the weight of Murrays heavy, accurate ground strokes and his own failure to control deep balls in the whipping breeze.
Troicki stayed in the set with an ace and a forehand that clipped the net kindly, but he could not deny Murray with ball in hand, and the Scot wrapped up the frame to love after 46 minutes of quality tennis in demanding conditions.
The second set was closer than the score suggests, but not by much. Murray had to save break point but he finished with a clutch or rasping shots that left Troicki ragged and resigned.
Read more: https://www.theguardian.com/sport/2016/aug/07/andy-murray-viktor-troicki-olympic-title-defence