The social media campaign to bring the rapper to campus was a success but there werent many students around during the 2.30am visit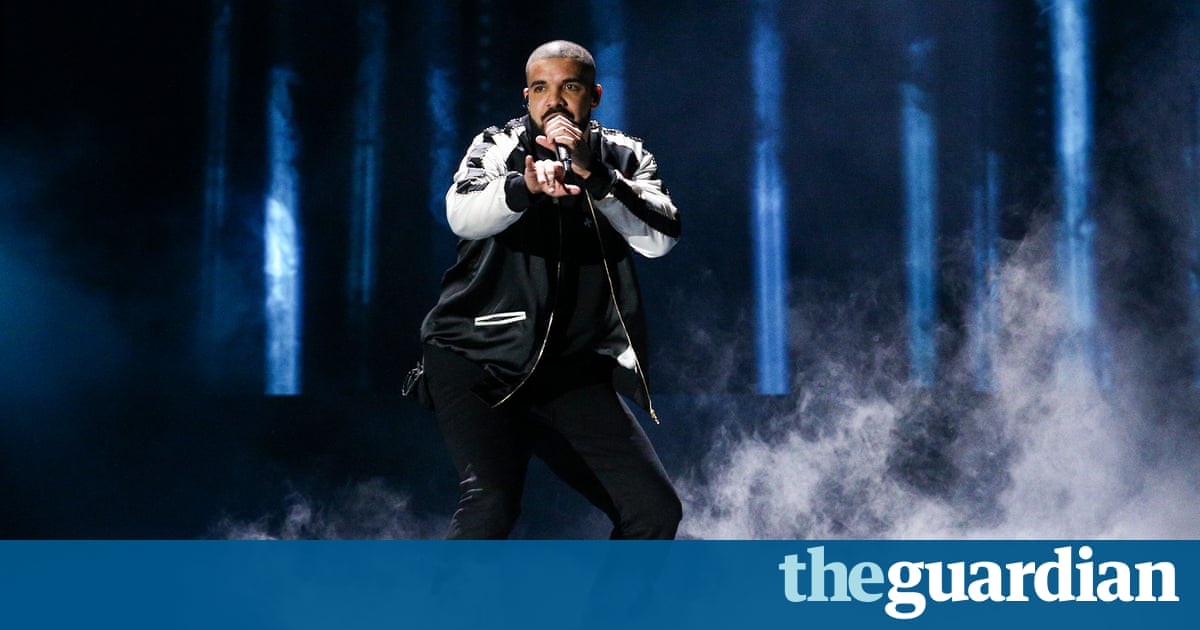 A social media campaign at Drake University in Des Moines, Iowa, was successful in bringing the rapper Drake to the school though few were around to actually see him.
Drake stopped by Drake after his concert in Des Moines decked out in gear from the university, including a varsity jacket and basketball jersey at around 2.30am and began knocking on doors, according to local news station KTLA. Kappa Kappa Gamma Im outside your sorority house right now and youre all asleep, Drake said in a video on his Instagram.
Ben Scott, a junior in Theta Chi fraternity, had just returned from Drakes concert and was still awake to answer the door when the rapper came calling. I think I was the only one that actually saw him and spoke to him which was phenomenal. I cant believe it happened, he told KTLA. He said they had a brief conversation.
One student told the station she had been awake but was doing her homework. Another seemed to think the rapper knocking on her sorority house door so late at night was a murderer or perhaps a clown.
Others were disappointed that they missed seeing the rapper, but were still happy he showed up. At least I can say Drake was on my campus, Thalia Anguiano, student body president, told KTLA.
A photo on of him posing on top of a university sign has over 600,000 likes.
Students used #BringDrakeToDrake to get the rappers attention, and even the schools administration and official Instagram account joined in.
We both started from the bottom now we follow each other on Instagram, one post from May on Drake Universitys account read, referencing the rappers famous song. The day before his show, they posted a photoshopped image of the rapper on their campus with the caption: This could be you tomorrow.
Drake had commented on the latter photo saying Imma pull up on ya, giving students hope that they would see him.
Students seemed to have expected Drake would show up before his show, gathering in front of the library that afternoon, according to the Chronicle of Higher Education. When he didnt appear, they believed he wasnt going to come.
If you havent heard, Drake the rapper did not visit campus today. But, our students still had a great day. #BringDraketoDrake lives on, the university wrote on Twitter on Tuesday just before 6pm.
The university said their involvement in the #BringDrakeToDrake campaign was about student engagement, Jarad Bernstein, director of public relations and media management, told the Chronicle of Higher Education. It was coordinated with Anguiano and the student government and began in earnest once Drake announced his Summer Sixteen tour earlier this year.
The visit also gave the schools social media presence a boost, as they gained followers and attention.
I think were probably going to be by the end of the day the most followed Instagram account of any university in this country, Bernstein said. Its just more and more exposure for the university reaching an audience that we generally wouldnt have access to otherwise.
On their Twitter, the school was having fun with the attention. They added footprint stickers on top of the sign Drake had posed on, to help anyone trying to recreate the photo.
On Wednesday, another famous name was at the school, as Senator Bernie Sanders campaigned for Hillary Clinton.
Read more: https://www.theguardian.com/music/2016/oct/06/drake-rapper-surprise-visit-drake-university-fail