Green arrested early Sunday after altercation with Jermaine Edmondson, according to police report released online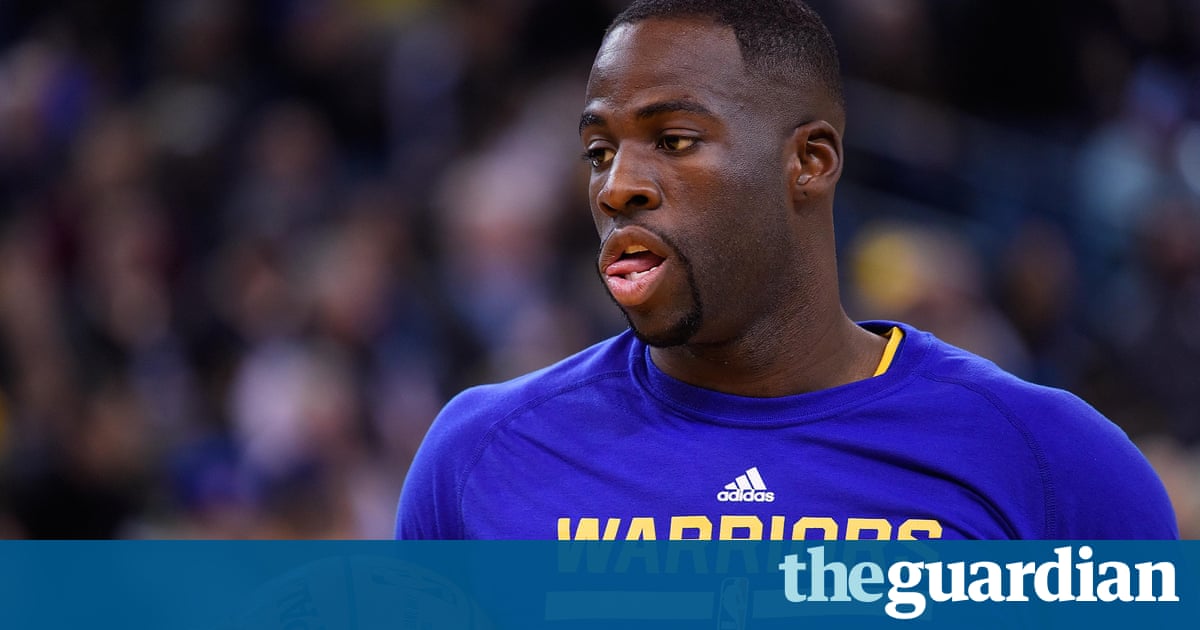 Golden State Warriors star Draymond Green was arrested on Sunday for allegedly slapping a Michigan State football player in the face, according to the police report.
Green was charged with assault after an altercation with Jermaine Edmondson, a senior cornerback for the Spartans, outside a bar in East Lansing, Michigan. Green was booked into jail and later released on a $200 bond. Greens arraignment is scheduled for 20 July, and if convicted, the Warriors player could face up to 93 days in jail and a $500 fine.
Police officer Jeff Horn wrote in his report that at 2.28am outside Conrads Grill in East Lansing, I observed a taller black male wearing a white T-shirt open-handedly slap another black male across the face.
Horn continued: The sound of the slap was very loud.
Horns partner, Shelby Humphries, wrote: I was standing watching Conrads as the bars were closing for the night. All of a sudden myself and Officer Horn heard a loud slap sound. I could immediately see the crowd disperse into two sides as Green went one way and Edmondson went the the other way.
The crowd then began to get very loud as people were arguing back and forth.
She said a third police officer, Chad Pride, came to help. Sergeant Pride was talking to Edmondson, who identified Green as the one who slapped him across the face, Humphries wrote. Officer Horn and I then ran over to Green and handcuffed him per department policy.
Edmondson, 22, said in his statement to police that the pair had exchanged angry words the night before.
I was talking to one of my teammates when Draymond bumped into me and I said: Hey bro, can you at least say excuse me? Edmondson told police. I asked who he was to think that its OK to bump into somebody without saying excuse me. He then said: I pay for niggas like you scholarships. Then I started to say you have me messed up, before I was choked out by two guys who were with him.
On the night of the incident, Edmondson told police Green approached him, and, after a short argument, hit him.
As he responded to me, he began to poke me on my shoulder and I tell him that he doesnt need to put his hands on me, we can just talk, Edmondson said, according to the police report. As I started to talk again, boom, Im punched in the jaw, in front of all my friends and peers.
Officer Horn wrote that Green made some excited utterances after being arrested, indicating that he was sorry for slapping the subject and wanted to speak with him to make things right.
After the arrest, Green submitted to a preliminary breath test. He registered a .10 BAC and was held in ELPD jail until sober.
Green, 26, addressed the incident for the first time on Tuesday.
When things happen, you meet them head on, Green said. My legal team is handling it. It will be resolved really quickly, As a public figure I cant put myself in certain situations. Its something that Ill learn from and move on.
Attorney James Heos told the San Jose Mercury News on Monday that Green is completely innocent. He added: Completely should be capitalized before declining further comment.
Green has been picked to play for the USA mens basketball team in this years Olympics in Rio.
Read more: https://www.theguardian.com/sport/2016/jul/13/draymond-green-arrest-golden-state-warriors