The 18-year-old is hoping to make the IOCs Refugee Olympic Athletes team only a year after she was swimming for her life in the Aegean Sea to escape war
Last summer, Yusra Mardini and her sister Sarah fled their home in Damascus for Beirut, Istanbul and finally Izmir in Turkey, where they managed to squeeze on to a dinghy crossing the Mediterranean to the Greek island of Lesbos. Thirty minutes into their journey, however, the motor stopped and the boat, carrying 20 people rather than the six or seven it was intended for, threatened to capsize.
Yusra, Sarah and another woman got into the water, pushing and pulling the dinghy until they reached the shore. They were the only ones on board who could swim. I thought it would be a real shame if I drowned in the sea, because I am a swimmer, she told a Berlin press conference on Friday. She has hated the open sea ever since.
In August, almost exactly a year after that treacherous crossing, Mardini is hoping her swimming ability could once again change her life, but in a much happier circumstance. Now living and training in Germany, the 18-year-old is one of 43 athletes across the world who, despite having fled their homelands and become refugees, are vying for the chance to compete in the Rio Olympics.
For the first time in its history, the International Olympic Committee announced earlier this month the nations competing at the summer Games will be joined in Rio by a team of refugees, made up of athletes who would otherwise find themselves stateless and excluded.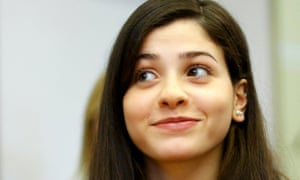 Read more: https://www.theguardian.com/sport/2016/mar/18/syria-rio-refugee-yusra-mardini-olympic-swimming