In a modern sports economy, athletes are also brands, and New England Patriots tight end Rob Gronkowski's brand is rather unusual. What we see Gronkowski do on the field and in the club would lead to scouting report notes like "character flaws" or "immaturity issues" for many players. But because he's GRONK and the Tight End God, his brand is in sync with his football calling. It's loads of fun. We'll call it what it is: Party Animal.
Gronkowski embodies the clichéd "work hard, play hard" rallying life anthem, and it's worked for him. He's an All-Pro, Super Bowl champion and perhaps the best tight end the NFL has ever seen. But achieving NFL immortality doesn't run parallel with going out every night — and that's actually not Gronk's style, not at all.
"Obviously, every time I'm at a party, everyone thinks I'm out every night, but I've still been to a few. I'd say like 10 or so this offseason," he told The Huffington Post over the phone on Thursday.
And yet, he's still the NFL's most notorious, but curiously doesn't have an expected rap sheet or viral drunken moment to his name. When coach Bill Belichick expressed his concerns about his star pass catcher's reputation, Gronkowski replied, "The fun stuff makes me grind harder." Belichick's response? A shake of the head and a concession: "Whatever works for you."
He does carry himself as a fun-loving, life-of-the-party doofus, and indeed lives the life that his brand reflects, but not as closely as you may think. Deep into his offseason of workouts (and a few parties, of course), HuffPost spoke to Gronkowski ahead of his "Madden 17" cover reveal.
You and your brothers are competitive as hell and love football. Did you all play "Madden" growing up? What was that like in the Gronk household?
We played "Madden" somewhat. We were more about being in the backyard playing basketball and baseball, but whenever we got in, we definitely played some "Madden." That would definitely start some brawls whenever you could find a way to cheat a little bit. It started some action in the house, just like anything else between us.
What were some of your favorite ways to cheat your brothers in the game?
You had a couple plays where you could figure out a glitch. Like, you could just keep calling the same play and throwing it deep, and one brother knew it but the other one didn't. We'd secretly hide the cheats and just keep doing them. That's what would start the brawls.
Keeping secrets from siblings is so classic. What was your go-to "Madden" team?
Growing up in Buffalo, we were always picking the Bills. There were a lot of quarterbacks.
You said that some NFL players "secretly" dream about the Madden cover. Has this been a goal of yours for some time?
It was an honor to even be in the game my rookie year, but now being on the cover in my seventh year is a dream come true. It's special to be in that elite category of players who've been on the "Madden" cover.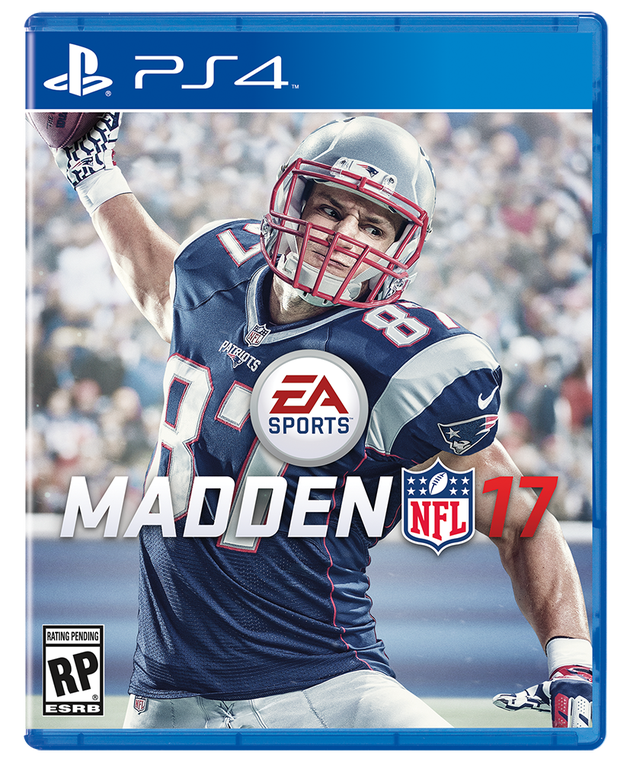 What's your next NFL goal?
I usually keep those personal and to myself. Definitely inspired to keep on grinding, keep on going, keep on doing what we do every single year: Win games and put up numbers.
How many parties have you been to this offseason? Give me a rough estimate.
[Laughs] Not that many, man. Obviously, every time I'm at a party everyone thinks I'm out every night, but I've still been to a few. I'd say like 10 or so this offseason.
That's not bad. That's like, what, one party a week or so?
About one or two [parties] a week on average, I'd say. Other days I'm just grinding, laying low. One or two a week is perfect, though — that's right on.
(Note: It's been 15 weeks between the Patriots' last game and the date of this interview. That means, by his "right on" average, Gronk should have gone to closer to 15 to 30 parties this offseason. Rock on.)
What's the best party you've been to this offseason?
I don't know. I just go out and about with them. Whenever I'm with my boys, we go out together, and not always to a certain party or anything. It's just always a lot of laughs.
Gronk does his thing on the "Gronk Party Ship" in February.
There's a perception that you party hard and you're wild. This is probably true, but you and your brothers don't get drunk or do drugs to have a good time, right? Just shirtless dancing?
First off, you always gotta get your work done. Then when you go out, we just inspire each other — my brothers, my friends, my family. We do some silly stuff, like ripping off shirts and dancing and going hard. We've been doing that since we were kids.
How do you drink often but not gain any weight? In your book, you claimed that "even when I am partying, I am working out."
It's true. If you sit down on your couch and just drink a 30-pack of beer, you're gonna put some weight on. But while you're drinking, if you're running around dancing and staying active, you can make sure you balance it out. Just make sure you don't go to the fast food joint at 3 a.m. and pound down nine burgers and then you're good.
Do you have to pay for drinks anymore? Some club owners have covered your tab in the past just for being there.
It all depends on where you're at. At some places, yes, at some places, no. Some places you want to pay for it because you feel like you don't want to owe the place anything. It all depends on the situation. It goes both ways.
What's your favorite song to dance do right now?
"My House" by Flo Rida. It's a pretty good song and I love rocking out to it.
This is Gronk-approved party music.
Why haven't you been on "Dancing With the Stars" yet? Has the network not reached out yet? What's the deal here?
It's a great show. I actually watch it when I can. I just haven't had the time to do it with my busy schedule.
Are you more comfortable naked or clothed?
I'm more comfortable clothed. By "naked," you probably mean with most of my clothes off, not totally naked. I wouldn't be comfortable walking somewhere being butt-ass naked. I would say I'm definitely comfortable just putting a swimsuit on and going out.
Would you ever do a "Playgirl" photo shoot?
[Laughs] No, I don't think so. I've never thought about that. That's pretty wild.
Have you read A Gronking To Remember?
I've read some parts of it, not the whole book. People have shown me paragraphs in interviews. It's a classic.
Do you have a favorite part?
The whole book's ridiculous.
What's the nicest thing Tom Brady's ever said or done for you?
The nicest thing he's done for me is throwing me touchdown passes.
Read more: http://www.huffingtonpost.com/2016/05/12/rob-gronkowski-doesnt-party-as-much-as-you-think-he-does_n_9953708.html