Former OKC star is officially introduced as a Golden State player, and becomes highest paid player on the roster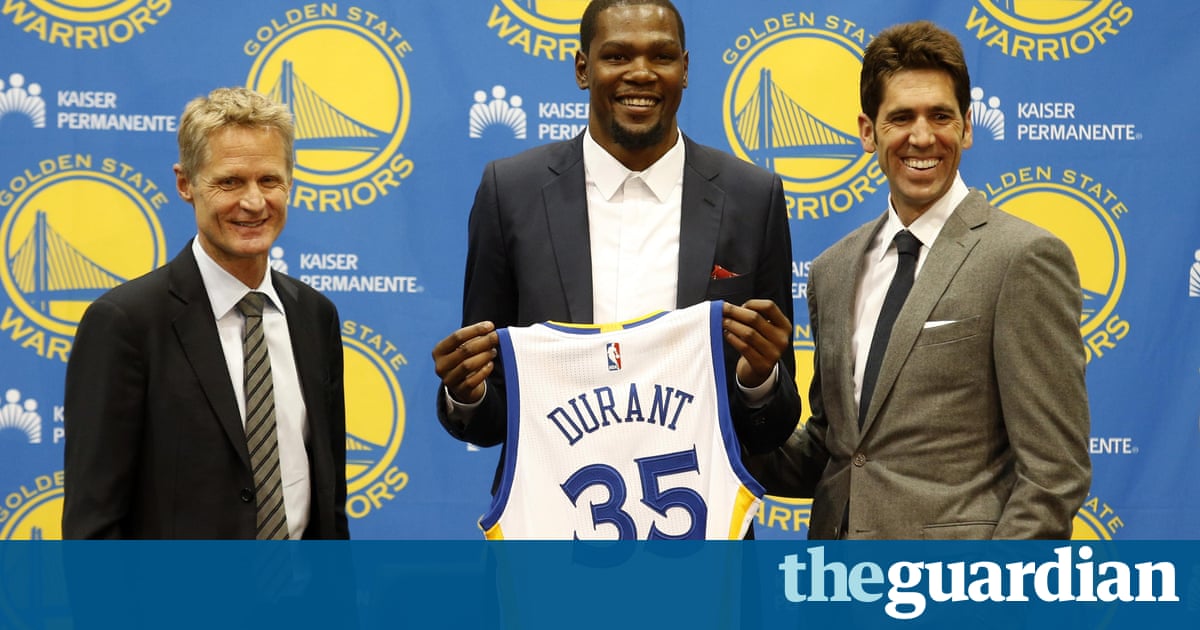 A beaming Kevin Durant was officially introduced as a Warriors player on Tuesday, and the latest addition to Golden States star-packed roster admitted he felt as comfortable as Ive ever felt when he met his new team-mates for the first time.
Durant appeared at a news conference at the Warriors practice facility after inking a two-year, $54.3m contract with a player option after the first year, and said he was thrilled to get started.
The seven-time All-Star said: When I met these guys, I felt as comfortable as Ive ever felt. It was organic. It was authentic. It was real. It was feelings I couldnt ignore.
Its been hectic. A lot of attention comes with being in this position [after free agency]. But I feel great. I feel excited about this opportunity.
Durant, who confirmed he was leaving Oklahoma on Monday, will be the highest paid player on the Warriors roster, earning more than two-time MVP Steph Curry, Klay Thompson and Draymond Green.
I havent made the decision, but he might start, coach Steve Kerr teased. Its safe to say Kevin would fit into any style.
To add another guy who is so talented Hes not just a shooter, not just a defender. Hes a basketball player. The combination of all these guys together should be a lot of fun to watch.
Golden State went 73-9 last season, setting a new record for regular-season wins, only to fall in seven games to Cleveland in the NBA finals.
We try to get better every day we wake up, Warriors GM Bob Myers said. You never expect to get this much better. We love people that love to play basketball. We love high-character people. You cant find a better embodiment of that than the guy sitting next to me. We all can dream. Most of the times the dreams dont come true.
The 27-year-old Durant had spent his entire career with the Oklahoma City Thunder franchise, dating back to its final season in Seattle. Durant has averaged 27.4 points per game over the first nine years of his career.
Read more: https://www.theguardian.com/sport/2016/jul/07/kevin-durant-joins-golden-state-warriors-nba