Westbrook scores 17 points for the 65th triple-double of his as career as Oklahoma City beat LA 110-93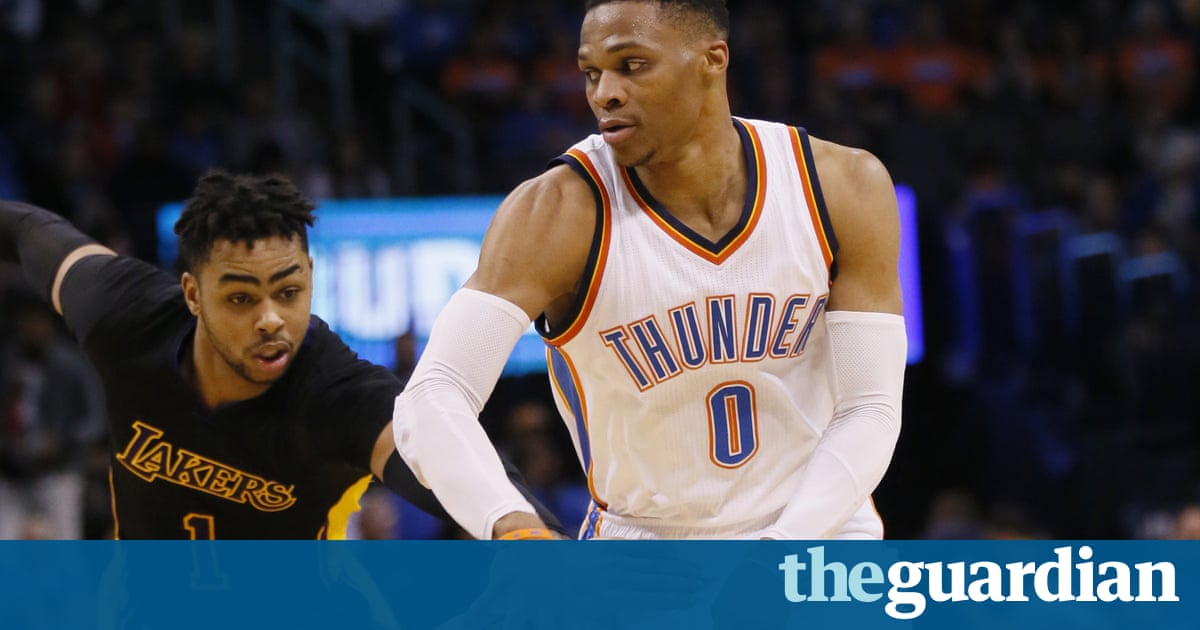 Russell Westbrook connected with his new teammates immediately.
Westbrook scored 17 points in his 28th triple-double of the season, and the Oklahoma City Thunder defeated the Los Angeles Lakers 110-93 on Friday night.
It was the first game in a Thunder uniform for Taj Gibson and Doug McDermott, acquired Thursday in a trade with the Chicago Bulls. Gibson scored 12 points and McDermott added eight, even though they arrived Thursday night and werent even available for shootaround on Friday.
Westbrook said the newcomers handled the hectic situation well. Great, man. Like pros, Westbrook said. They came in and competed. Obviously, they dont know many plays and many sets, but it was all right. They did a great job with spacing and knowing how to play the game.
Westbrook also had 18 rebounds and 17 assists for the 65th triple-double of his career.
Gibson is glad to have Westbrook as a teammate now instead of an opponent. Its a lot easier, because when hes coming at you full speed and he has that mentality where hes just so mad, its scary. Youve got to get out the way, Gibson said.
And he already feels comfortable with the Thunder. It helped make things a little bit better, knowing that you come into a situation where people want you and welcome you with open arms, Gibson said.
Alex Abrines and Andre Roberson each set a career high with 19 points, and Steven Adams added 15 points and 10 rebounds for the Thunder.
DAngelo Russell scored 29 for the Lakers, who shot just 39.6%. It was the teams first game since sending scoring leader Lou Williams to the Houston Rockets.
I knew at times wed stall out offensively because Lou was such a big part of it, Lakers coach Luke Walton said. But I thought they did a great job.
Westbrook didnt make a field goal until 3:15 remained in the first half, but he went 8 for 9 from the free throw line before the break. He had 13 points, eight rebounds and eight assists in the first half to help the Thunder take a 58-51 lead.
Westbrook clinched his triple-double in the first few minutes of the third quarter. Abrines hit three three-pointers in the opening minutes of the period to give the Thunder a 73-58 lead.
Gibson got the crowd into it with a dunk on an assist from Westbrook with 2:27 left in the third, and the Thunder remained in control the rest of the way.
Read more: https://www.theguardian.com/sport/2017/feb/25/russell-westbrook-triple-double-thunder-lakers