The Warriors coach channelled his inner Phil Jackson after Thursdays scrap and his $25,000 fine for cricitizing the officiating could be money well spent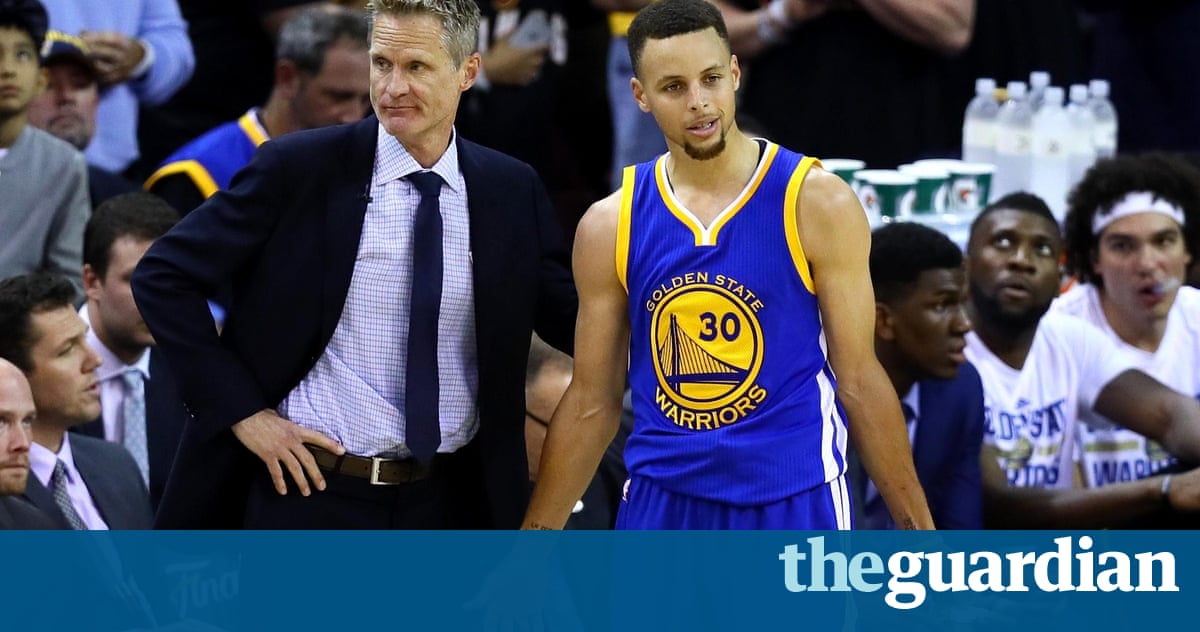 The most important moment of Game 7 might actually have happened after Game 6 ended late Thursday night. This is when Golden State Warriors coach Steve Kerr walked into an interview room beneath Quicken Loans Arena, and dictated how the championship game will be officiated.
The topic was Steph Currys fouling out, and the Warriors stars ensuing ejection for throwing his mouthpiece and snapping at official Jason Phillips. But Kerrs answer was really a message to the leagues front office: dont you dare blow a whistle at Curry.
Hes the MVP of the league, Kerr complained. He gets six fouls called on him, three of them were absolutely ridiculous. He steals the ball from Kyrie clean at one point. LeBron flops on the last one. Jason Phillips falls for that, for a flop. As the MVP of the league, were talking about these touch fouls in the NBA finals.
Let me be clear, we did not lose because of the officiating, Kerr continued. [The Cavaliers] totally outplayed us and Cleveland deserved to win. But those three of the six fouls were incredibly inappropriate calls for anybody, much less the MVP of the league.
There is a lot of Phil Jackson in Steve Kerr, and Kerrs press conference opener on Thursday was pulled straight from his old coachs playbook. Jackson might be best remembered as some basketball mystic who squeezed 11 NBA titles from the bloated egos of Michael Jordan, Kobe Bryant, Shaquille ONeal and Scottie Pippen, but he was also a shrewd manipulator of officials who had a gift for coercing referees to swing their calls in his teams favor.
Jacksons tactic was simple. Whenever a series appeared to be turning against his players the way these finals are switching from Golden State to Cleveland, hed walk into a postgame press conference and launch into a diatribe about the way the games were being called. His words then washed through a media cycle, drawing headlines until the next game, when, magically, his Bulls or Lakers teams would see a flurry of whistles go in their favor. A few years ago, journalist Patrick Hruby, then writing for ESPN, found 13 cases where Jacksons playoff officiating rants hanged series, most of these coming in what would be championship seasons.
The most brilliant of these occurred on the spring day in 1992 after his Bulls lost Game 4 the second round to a rougher, more aggressive New York Knicks team. Jackson had been ejected in the game for arguing about calls and had triumphantly marched off the court waving to the jeering Knicks fans. Following the game, he marched into his press conference and lambasted the Knicks rugged style of play.
The rest of this series has to be hand-to-hand combat, Jackson said. They were shoving our dribblers with two hands. Thats against the rules. Thats football, not basketball. I just had to stand up for my guys. Thats all this was about I think the league has to take a look at this kind of game. Its impossible to officiate. You can call a foul on every play.
You could feel the series, which was tied 2-2, switch right there. Oh no here we go! shrieked a writer from one of New Yorks tabloids as Jackson spoke. The next game, Chicago shot 16 more free throws than the Knicks, and New Yorks star center Patrick Ewing fouled out. The Bulls won that Game 5, took the series in seven and went on to win their third straight NBA title.
Kerr did not join Jacksons Bulls until the next season, but he absorbed a lot of what Jackson did and said in the years he played for him. People around the Warriors say he has built his coaching style by taking pieces from the men who coached him in the NBA. Those who are mentioned most are Lute Olson his college coach at Arizona; San Antonios Gregg Popovich and Jackson.
I feel like there is a cultural element he has taken from Phil and a cultural element that we play with that is a portion of what Phil does, Warriors shooting coach Bruce Fraser a close friend of Kerrs recently told the Guardian.
On Thursday night, Kerr also took Jacksons manipulation of officials.
I just think that Steph Curry and Klay Thompson, the way we run our offense, were running, were cutting through the lane, were a rhythm offense, Kerr said. If theyre going to let Cleveland grab and hold these guys constantly on their cuts and then youre going to call these ticky-tack fouls on the MVP of the league to foul him out I dont agree with that.
His words earned him a $25,000 fine from the leagues office, which does not condone their coaches publicly criticizing officials, but it was money well spent. Curry will have to spit his mouthpiece in Jamess face on Sunday night to get a foul called against him, and even its only 50-50 that a whistle will blow. With a few choice words, Kerr channeled his inner-Jackson and all but guaranteed his top players will not be in foul trouble during Game 7. This is how it always worked for Jackson.
If Curry and Thompson hit their open three-pointers and win the series, Kerrs rant will be forgotten, but it will also be the moment that Golden State took back a finals that were slipping away.
Read more: https://www.theguardian.com/sport/blog/2016/jun/18/steve-kerr-golden-state-referees-nba-finals-game-7