The Guardian film critics first Academy Awards ceremony delivered selfies, supercharged excitement and an upset that left everyone dazed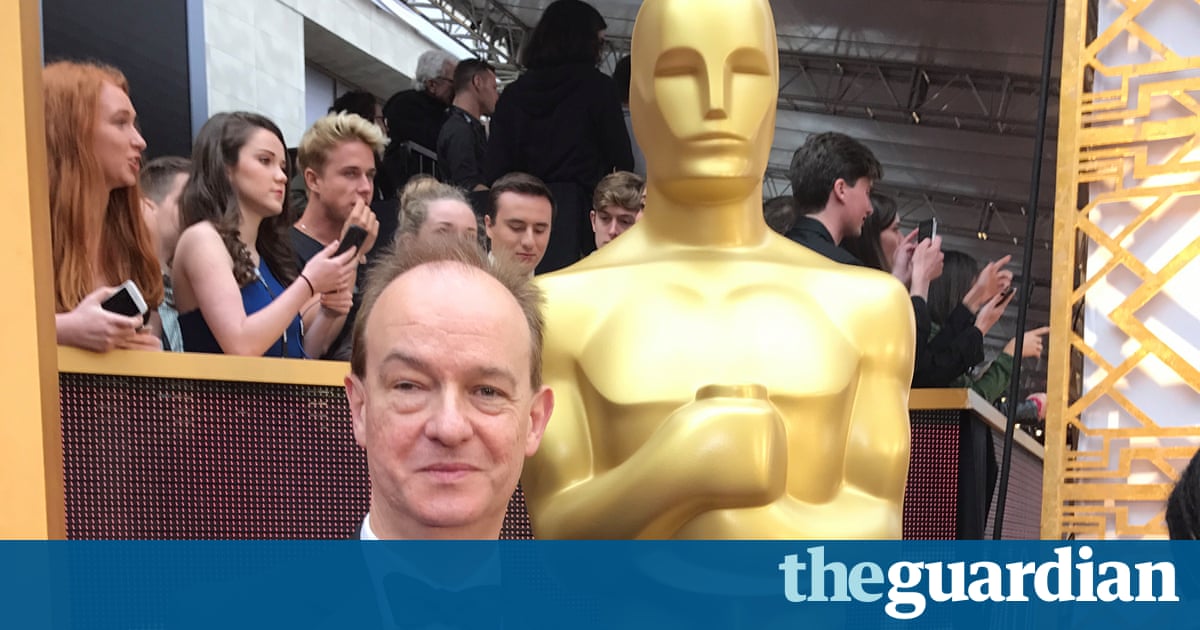 All the leaves are brown and the sky is grey as I leave dreary Britain for my date with celebrity destiny in Los Angeles, California. I was heading for the Academy Awards, little knowing that the ceremony would be crowned with a moment of gorgeous and historic chaos, with Warren Beatty and Faye Dunaway giving the best picture award to the wrong film and creating the biggest YouTube moment since Susan Boyle appeared on Britains Got Talent.
But it wasnt the fault of poor old Beatty and Dunaway, the presenters whose careers must now permanently include this embarrassing moment. It seems someone had somehow passed the envelope announcing Emma Stones best actress Oscar for La La Land into Beattys hand and Beatty, after some understandable befuddlement, and equally understandable reluctance to stop the proceedings while he asked someone in charge what on earth was going on, just thought he and Dunaway had no choice but to assume that La La Land was the winner. That films entire team came triumphantly on and then had to be ignominiously herded off while Moonlights team straggled on for their anti-climactic and muddled moment.
Everyone I spoke to afterwards had a shocked, dazed, almost PTSD-ish memory-fragmentation when it came to the moment of disaster. We had all zoned out a bit at the end of a long ceremony, but woke up with a start when La La Land producer Jordan Horowitz announced that it was a mistake, that Moonlight has won, and said what must for him have been sickening words: This is not a joke.
After that brush with the cockup-iceberg, our awards-season flagship Titanic was to limp very sheepishly into port. But what a very exciting voyage!
It was a hell of a way to pop my Oscar cherry, as another journalist put it, as we milled around aftwards, dazed and enthralled at the realisation that something extraordinary had happened at the Oscars.
After growing up watching the Academy Awards on the BBCs edited highlights and latterly years of watching them live overnight on television in the Guardians offices in north London, I was, for the first time, attending in person. After a professional lifetime slumped in dingy screening rooms wearing a fleece covered in Doritos crumbs, I was bathing in stardust.
Every British writer over for the Oscars knows the drill: ironic bemusement mixed with squeaking excitement. I was overdoing the last bit, as I mentally prepared to step on to the red carpet, enter the pre-ceremony champagne area, witness the ceremony itself and then mingle with the A-listers at the parties afterwards, like one of the grinning poor relations in The Pickwick Papers.
Read more: https://www.theguardian.com/film/2017/feb/27/wrongbestfilmgate-was-a-moment-of-pure-chaos-my-night-of-shocks-at-the-oscars